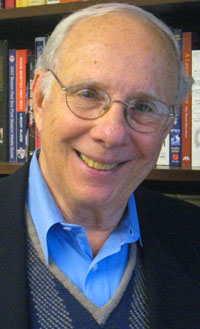 Download high-resolution author photo (JPG)

Photographs of Larry Ruttman are licensed under a Creative Commons Attribution-ShareAlike 3.0 Unported License.
About the Author
Larry Ruttman, author of American Jews and America's Game: Voices of a Growing Legacy in Baseball, is lifelong resident of Brookline, Massachusetts. Larry has been attending ball games at Fenway Park since the days of Ted Williams and Moe Berg. His first book, Voices of Brookline, was a national finalist for the 2005 American Association of State and Local History Award of Merit. A Korean War veteran and a practicing attorney for over fifty years, Larry is amazed that Providence has granted him the privilege to "live his life backwards" in this late-coming and deeply satisfying labor of love.
On June 14, 2013, Larry was honored to be elected as a Fellow of the Massachusetts Historical Society, our nation's first historical society, founded in 1791. See News for more information.
Larry Ruttman
4 Cypress Street, Suite 8
Brookline, MA 02445
Office: 617.232.4464
Email: lawrut@msn.com
Website: www.larryruttman.com